TOP SECRET
Mission #8: Silver and Gold Archived Page
Case File Summary:
Mission #8: Silver and Gold Holiday Special
Mission Began: 11/27/18
Mission Ended: 12/15/18 1300EST
Mission Bounty: Silver, Gold, and Other Surprises! (see below)
Bounty Won by Agent Corey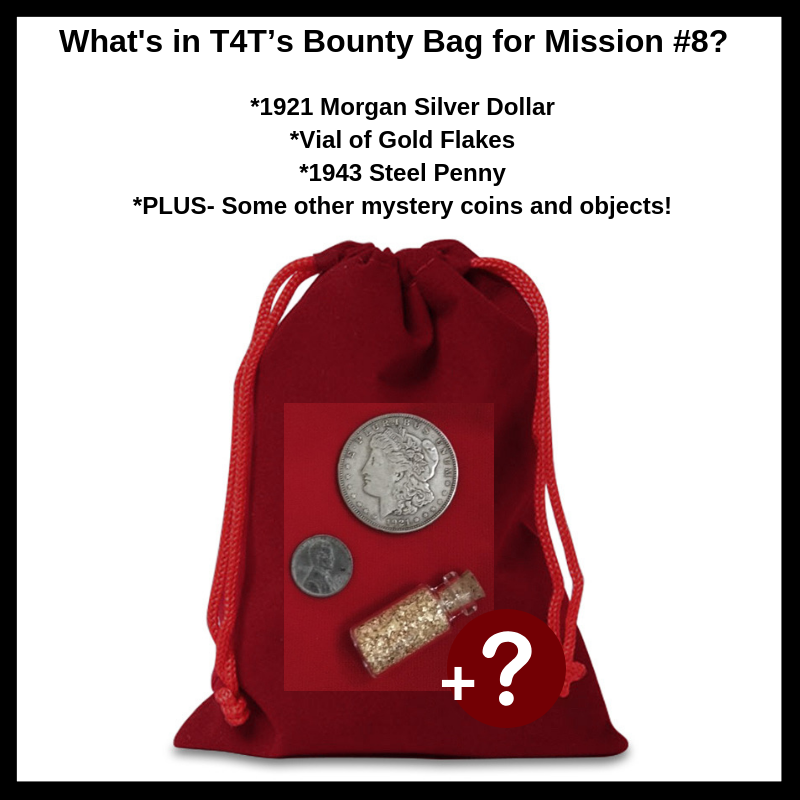 Mission Details as given:
Mission Type: Copper Level Mission (To win the Bounty: All Agents correctly identifying the drop site by the specified time will be entered into a Random Drawing from all correct submissions received at T4THQ)
To play: T4T Agents receive Mission Dispatches. Follow the Mission's Dispatch links.  Track down the images to extract data for a 'Secret Message'.  This information will be used to gain access to a private page which will identify a treasure's Drop Site. Players then transmit this Drop Site, and other required information to T4THQ to claim the Bounty.  A drawing will be held at the end of the Mission to determine the Winner of the Bounty!
Simple as that!
Mission #8 Dispatches will be sent in a BLAST to T4T Licensed Agents.  They are also posted here at Headquarters.
Dispatches will be sent every 3 days, with final dispatch sent on December 13th.  Agents are after a secret message. There will be a total of 6 Dispatches sent.  Transmissions to claim Bounty must be received by December 15th, 1300 EST.
An Agent will ONLY know what to transmit to T4THQ after last Dispatch and Instructions. There will be a fun twist at the end with Dispatch #6 and a Drop Site will need identified.
Mission Solution:
Agents needed to track down images provided with the 5 Dispatches and discover the 'secret message' of MERRY CHRISTMAS'.  Dispatch #6 then instructed Agents on how to reorder that message to use as a Password to gain access to the private page with Drop Site.  This page also held the Transmit Form for Agents to send in their solutions.
The Password was:  MASSTCRHIRYMER
The Drop Site was: MY CHIMNEY
The Password was discerned by Agents recognizing the images related to the '12 days of Christmas song's first 5 items:  RING, HENS, CALLING BIRDS, DOVE, and PEAR TREE.  This provided the 'mixed up PASSWORD' from MERRY CHRISTMAS.
Thanks all for Playing!