RESTRICTED
Briefing #1 for Mission #001
ATTN: T4T Secret Agents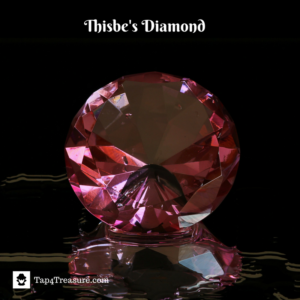 Mission #001: Thisbe's Diamond. 
Reward: $50 cash
T4T Full Briefing:
Agent White has acquired intel of a forthcoming Drop for Thisbe's Diamond.  Covert communications on where this will happen will be intercepted by Agent White and dispatched to Secret Agents at T4THQ.
T4T Secret Agents interested in helping to seize this treasure are to report to T4THQ and receive dispatches as they are transmitted.  The first transmission is known to be transferred March 21st at 1300 hours (EST).  Multiple communications, over the course of about 12 days, are expected to be intercepted and dispatched.
The first T4T Secret Agent who discovers the location of the Drop from these coded transmissions is to immediately transmit it to T4THQ using the following secure channel:
T4THQ@tap4treasure.com
If submitted location is correct and is the first to be received, the Secret Agent will receive a $50 cash reward. Other agents will be notified of completed mission across all T4T channels.
There will be no need for any T4T Secret Agent to travel to location.  T4THQ only needs help in discovering the location where the Drop will happen. Once this is ascertained, T4THQ will send out their own specialized team of operatives to seize the treasure before they are acquired by the scoundrels.
The treasure will then be placed in T4T's Museum for all to see.
Let's fill the place up.
Legend of Thisbe's Diamond:
T4T has been tracking the Thisbe's Diamond for the last few weeks.  Agent White received intel this incredible treasure had resurfaced, and that underground dealers were actively looking for a buyer. Since the time of this Diamond's discovery, it has been a highly sought-after artifact.  The legend associated with the diamond is as follows:
As first told in Ovid's Metamorphoses, Pyramus and Thisbe lived in the city of Babylon, but although they loved each other, their parents forbade them to marry.  One night, talking through a crack within their walls, for they lived next to each other, Pyramus and Thisbe planned to secretly meet near Ninus' tomb under a mulberry tree.
Thisbe arrived first, but while waiting for Pyramus, a lion appeared.  The lion's mouth and body were stained with blood from its recent prey.  Thisbe panicked and rushed away to hide in a cave nearby.  In her haste, she dropped her veil which the lion picked up with his bloody jaws.
Pyramus soon reaches the mulberry tree and is devastated to see Thisbe's veil in the lion's mouth.  Thinking Thisbe has been killed by the beast, he kills himself.  Thisbe returns, and sees Pyramus pierced by his own sword, and does the same.  Neither willing to live without the other.
Ever since then the mulberry tree's fruit is said to be dark red as a memorial of their double death.   A lesser known legend involves Thisbe's Diamond.  In certain accounts, Thisbe discovers a pure white diamond with a note in Pyramus's hand upon her return. It was to be a token of his pure love for her.  When she saw it, she lamented that it too should hold the mark of their death, and after taking the sword herself, it is said she held the diamond in hand, over Pyramus' body, and watched it turn red as she closed her eyes forever.
It is this Diamond that is in hopes of being retrieved by T4T Secret Agents in Mission #001.